Structured Cabling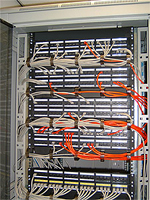 Accenet offered a strategic and consultative approach to meeting its clients communication challenges. As a value-added reseller and integrator of structured cabling systems and specializing in data and voice applications, our goal is to ensure that the optimum solution is developed, and operational, when you need it.

We take great pride in providing structured cabling solutions that come with extensive warranties and are capable of outperforming any other in the marketplace. With partners with the most thoroughly trained technicians in the industry, we are confident that you will find Accenet a trusted partner.

Accenet provides certified Category 6 (standard and augmented) and Category 5e copper connectivity solutions for voice, video, data, and building automation. All copper cabling solutions are installed, tested, and certified to meet or exceed the latest ANSI/TIA-568 standard specifications.

Installation services include implementation of any cabling design and our maintenance service extends to providing support for any of our installations as well as non-Accenet installations. Considering that a typical Ethernet infrastructure will be in place for 20-30 years, and that critical technologies such as voice/telephone (VoIP), and video surveillance (IP-based video), that have traditionally been installed on separate copper and coaxial networks are now becoming part of the LAN network infrastructure, we feel that it's more critical than it ever has been to select the right infrastructure partner from the start.
Cable Management

Our cable management solutions provide structural support systems which organize, store and secure cabling, and valuable computer, data and communications equipment. Cable management systems include two-post systems, four-post systems, wall, ceiling & under-floor systems, zone cabling & wireless enclosures, cable management & runway, and accessories.

Seismic Bracing: Accenet offers rack systems which provide seismic bracing. They use heavy duty steel construction and provide pathways to route cable between enclosures and equipment. Standards supported include Zone 4 Seismic, NEBS and GR-449 Issue 2 compliance.

Cable Pathways and Wiring Ducts: Accenet offers metal cable pathways/channel, cable runway (ladder rack), as well as low smoke/low toxicity non-metallic wiring duct. Cable pathway systems help organize cables and cords throughout your network. Cable runway is used for horizontal, vertical and backbone pathways and can be installed within and outside of your data room, under raised floors and above acoustic ceilings. The non-metallic wiring duct can help reduce costs associated with engineering and design and is up to 40% lighter than aluminum channel. Industry compliance (depends on solution) includes ANSI/TIA/EIA, UL recognized and CSA certified, UL94V-0 flammability rating and flame spread, low smoke and toxicity requirements of NFPA for our low smoke/low toxicity non-metallic wiring duct.

Patch Panels: We provide physical layer management systems which not only simplify the design, build-out and expansion of network infrastructure solutions, but can also deliver valuable information to facilitate the rapid resolution of physical layer faults.

Grounding & Bonding: Proper grounding is essential for efficient network system performance. In addition, the grounding system is not just an insurance policy against a lightning strike - it is an active, functioning system that provides protection for personnel and equipment. Accenet provides grounding & bonding solutions which meet industry standards including TIA-942, J-STD-607-A and IEEE Std 1100-1999 (IEEE Emerald Book) - IEEE Recommended Practice for Powering and Grounding Electronic Equipment, UL listed, CSA certified, ANSI/TIA-942 Draft 5.0a - Telecommunications Infrastructure Standard for Data Centers, J-STD-607-A-2002 - Commercial Building Grounding and Bonding Requirements for Telecommunications.